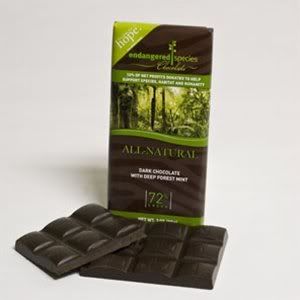 I figured today I'd share a cool brand of one of the things I absolutely can't live without: CHOCOLATE!!! Endangered Species Chocolate makes several fancy varieties of vegan dark chocolate (dark chocolate in general is usually vegan, rejoice!), and they donate 10% of their net profits "to help support species, habitat and humanity." What could be better!? I get my chocolate fix and donate to charity at the same time.
Now here's the real kicker: dark chocolate, as long as you consume it in small quantities, can actually contribute to your health! One of the first resources I turned to upon my decision to give up meat is
Vegetarian Times
magazine. I picked up a special of theirs on 25 healing foods. Guess what, dark chocolate was one of them (you can't imagine how ecstatic I was)! According to the magazine, dark chocolate is not only loaded with antioxidants, but also contains flavonols called procyanidins and epicatechins (don't ask me for pronunciations). These are the main flavonols in cocoa and "can improve heart health by reducing both blood pressure and cholesterol levels--and these compounds may also lift your mood."
An ounce a day keeps the doctor away?
Endangered Species Chocolate